River Fiskonbäcken, 1 night
Kultsjögården
River Fiskonbäcken, 1 night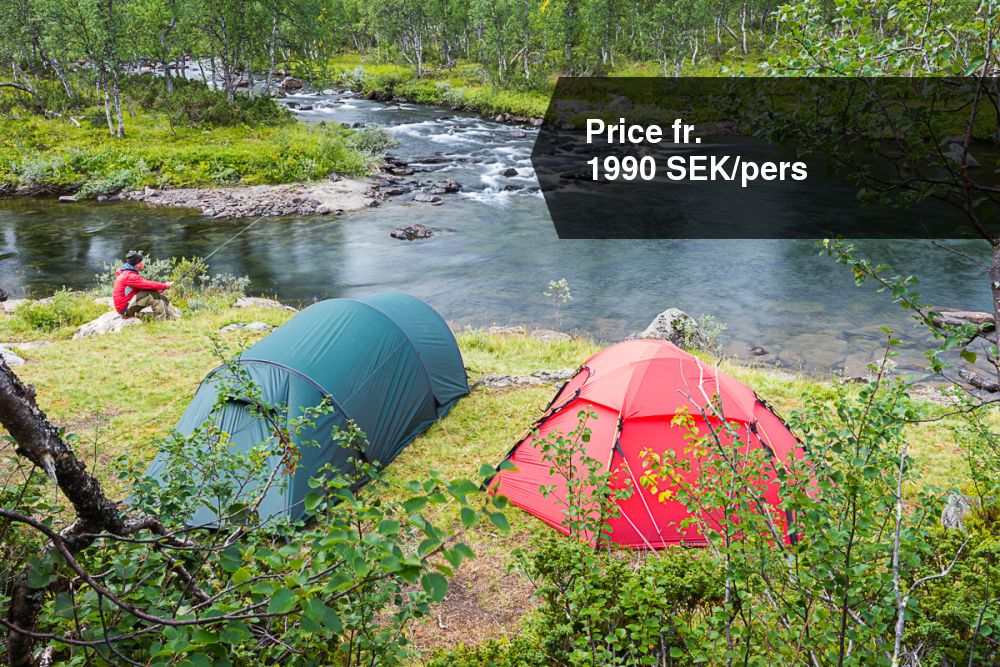 The upper reaches of the Fiskonbäcken Creek are in fact a small mountain river between 5 and 15 m wide. The creek offers many stretches for extraordinary sight fishing. Only 25 fishing days are sold in this area. The river houses a solid stock of relatively large mountain trout with an average length around 40 cm and rather common individuals reaching 55 cm.
Included in package
Included in package // Fishing licence, tent lodgings, guide and food for your whole stay at the river. We recommend a maximum of three days at the river. Good to know if you choose to hike in: Since the hike is some 8 km in mountain terrain to our camping site it's important that the participants can carry their share of the equipment for needed for sleeping and eating.
Price fr. 1990 SEK/pers
Supplement // Helicopter – price/person 2 200 SEK, there and back. Fishing equipment – price/person 150 SEK/day. Waders – price/person 125 SEK/day. 1 person, price/person/day 4 690 SEK. 2 persons, price/person/day 2 890 SEK. 3 persons, price/person/day 2 290 SEK. 4 persons, price/person/day 1 990 SEK.
Additional information
Booking: travel agent
Czech Republic & Slovakia
PEPA Travel Agency Ltd
www.rybolov.com
Email: info@rybolov.com
Tel: +420 266 610 273
Contact information
Company: Kultsjögården
Address: Saxnäs 38
Zip/City: SE-910 88 Marsfjäll
Phone: +46 (0)940 - 700 44
Website: www.saxnasfishing.se
Email: info@saxnasfishing.se