Sweden – for great angling

"North or south, in Sweden the chance of catching your dream fish is never far away!" Young or old, amateur or old hand the opportunities abound. Take Anna – she landed her first trout when she was six and was herself caught. The quote above is hers, but it could just as well be a comment from Sven, a city boy seduced by the fresh, unpolluted waters. She fetched him out to the countless waters rich in fish and now both are dedicated anglers spending holidays fishing in a clean, natural environment. For them the untouched countryside, the varied fauna and flora, the many lakes and rivers all combine to provide a satisfying life or just an especially exciting fishing holiday.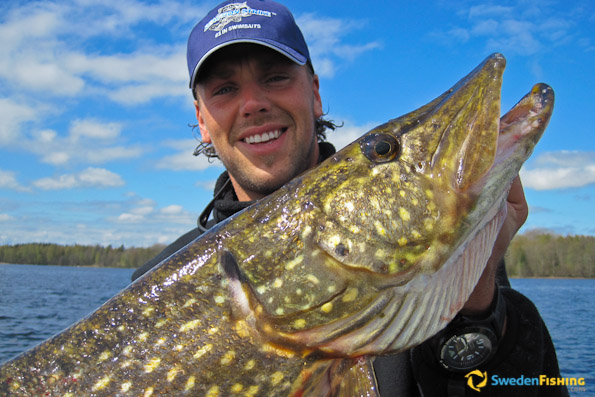 South Sweden - Pike from Sjuhärad Fishing Area.
Easy to get to
Some 2,000 km or about 1,200 English miles long, Sweden presents wide variations in climate and of natural environments. "North and south aren't the same," says Sven. "But though it's a large country, it's easy to get around." The high standard roads extend throughout the country, the trains and coaches are on time and there is a wide network of rental car companies. Airlines have cut their prices and introduced new classes of travel to meet the competition - and have made it possible to travel to Sweden much easier from all corners of the globe and for less money than ever.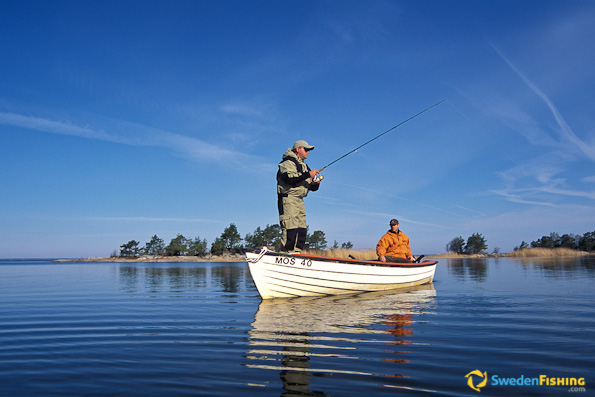 South Sweden - Lake Vänern
Easy to enjoy
The fish you're likely to catch also vary between different parts of the country, as do the preferred fishing methods and the length of the season. Generally the spring, summer and autumn provide the widest choice and often the most rewarding fishing. Use the map to put meat on this general description of the fishing opportunities and the incredible variety of sports fishing you can find all over the country. Still, this information can only begin to describe what you can expect in Sweden – this great angling country where, as Anna said, "the chance of catching your dream fish is never far away!"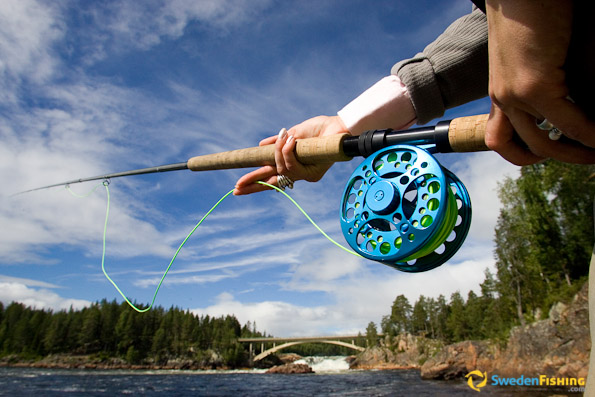 North Sweden - Jockfall Fishing Camp
Making it easy
SwedenFishing.com is your natural choice if you're planning a fishing holiday in Sweden. We offer a variety of fishing areas and 'fams', all of which provide some of the best fishing in the whole of Sweden for the whole family. Wherever, whenever and how you plan to fish we are your natural partners. "SwedenFishing is great," says Sven. "They know where to find the best fishing, the best local services, and the best fishing camps right across the country. They understand what an angler needs and can organize tailor-made packages, regardless of where you want to fish and what species you hope to catch."
Central Sweden - Huge zander from Hedesunda Camping by river Nedre Dalälven.
All the fishing camps on offer have high standard, personal service for anglers, such as multi-lingual guides and boats. "You'll also get the latest information on the best places to fish and the most successful methods of fishing. Their website offers a comprehensive guide to the vast range of fishing, as well as attractive accommodations close to the best fishing waters. In short, everything you need to organize a highly successful fishing holiday can be found at SwedenFishing.com."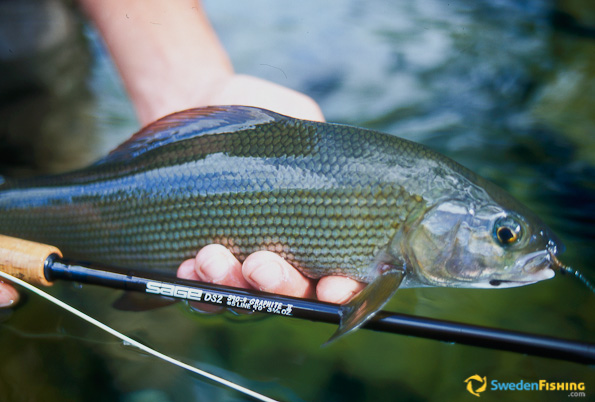 Nothern Sweden - Grayling on the fly in The land of the midnight sun.
Once more – welcome to Sweden!



Advertisement
Click on map for destinations

Search your fishing destination
Advertisement