Stories from south Sweden
Nature and waters

Sweden is the fifth largest country in Europe. Stretching 1 572 km (977 miles) from north to sout…

Species and fishing

With short travel distances, superb fishing waters and low population, Southern Sweden is seeming…

Weather and seasons

Since the climate in southern Sweden is much milder than most people think, the fishing season st…
Fishing in West Sweden
The Bohuslän coast in the west of Sweden is famous for sun, sailing, prettier-than-a-picture fishing villages and its rocky, rolly coastline. It's also gaining an international reputation for its succulent west coast lobster and awe-inspiring oysters. With this much coast around, paired with an abundance of freshwater lakes and rivers inland, you'd think there would be good fishing. And you'd be right.

Rivers and lakes
The biggest river in the area is Örekilsälven that meets the Valboån river to form Munkedalsälven. In the lower parts of the river you can fish for salmon and salmon trout. Lake-wise there is a bunch to choose from; at Bullaresjöarna, Kornsjöarna, Kärnsjön, Lersjön, Sannesjön and Viksjön you can catch pike, perch and pike-perch, usually from a boat. The natural settings for these lakes is mostly verdant, forested valleys and rifts.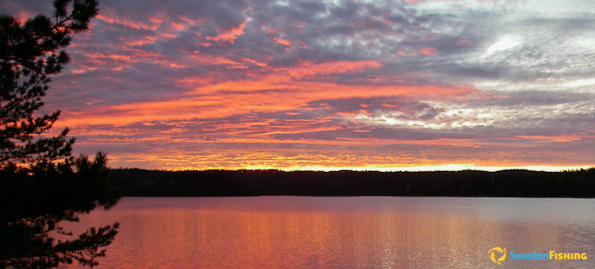 Off the coast
The Bohuslän archipelago here is a watery paradise of 8,000 islands, islets and skerries. In the archipelago and at Gullmaren, a 25 kilometre-long fjord near Lysekil on the coast, you can fish for mackerel, herring, salmon trout and lobster.
Accommodation
There is a large number of camping alternatives, as well as first rate hotels and guesthouses inland. At Kynnefjäll and Bullaren there is high standard accommodation on offer with a 'wilderness and adventure' angle. You can also opt for a more opulent country manor stay, or 'go wild' at one of the small-scale and personal service wilderness camps inland.