Stories from north Sweden
Nature and waters

Northern Sweden is an enormous land area with uncounted lakes, rivers and jokks, Sami for creek,...

Weather and seasons

Northern Sweden and what in common parlance is called Lapland is an immense area embracing a thir…

Species and fishing

For anyone seeking silence and immense spaces, the alpine world of northern Sweden is a fulfilme…
Fishing in Northern & Eastern Jämtland
Leaderarea 3sam geographically comprises of municipalies Ragunda and Strömsund in Jämtland. Distances within the area are long while containing only some 19,000 inhabitants. The two municipalities have much in common and covers 350 km from south to north, 5 hours by car. The waterways have historically been a "glue" that tied the area together. The importance of these waterways are maintained even today. Sport fishing tourism is big in our area. Everything from fishing from a boat in bigger water, to searching the small streams after the elusive brown trout.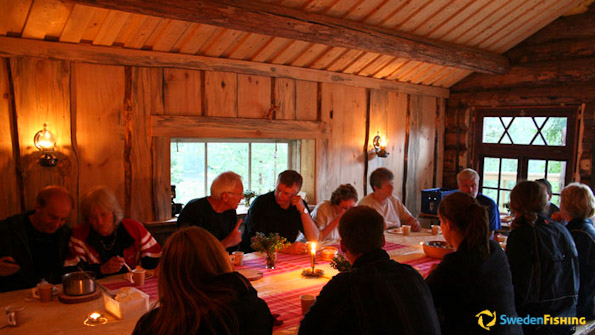 Description of fishing/locations
In the northern and eastern parts of Jämtland province in northern Sweden, char, grayling, perch, pike, salmon trout and whitefish abound in the lakes, tarns, rivers and streams. Most of these species also thrive in the 'string' of nine lakes that form Ströms Vattudal, which starts in the majestic, mountainous north of the province. In eastern Jämtland the most famous stretch of fishing water is the Ammerån river, most of it a nature reserve, and offering great grayling, salmon trout and pike fishing. It runs into the Indalsälven river, where you can fish for the same species. In northern and eastern Jämtland you are spoiled for choice for inland lakes and tarns for catching pike and perch. And in the woodland lakes and mountain rivers and streams there is an abundance of salmon trout, char and grayling.
Accommodation
There are a number of fishing camps in the area offering comfortable accommodation, as well as boat hire, guides and transport upon request. If you're the 'go-it-alone' type look no further than the cabins on offer, ranging from the comfortable and simple, to higher standard options. There is also hotel accommodation available.