Seasons
"From top to toe Sweden is 2,000 kilometres long. 2,000! When it's snowing up north, southern Sweden could be thawing." The words are those of Sven, an angler, who goes on to explain that Skåne Province in the south can be snow-free and several degrees warm, while Lapland above the Polar Circle can have 20-30°C below zero and metre-thick ice on the lakes. And that's in March!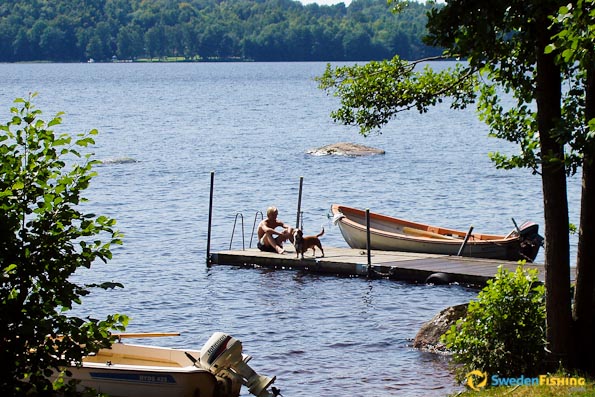 South Sweden - Skåne
"You have to remember the great climate differences when you plan a fishing holiday here in Sweden, especially if you're going up north," says Anna, Sven´s girlfriend. "Far up the lakes might only be open for three or four months, while in the central and southern areas they might never freeze at all." Since the climate conditions in different parts of the country are so varied, it's tough to offer general advice about when to come to Sweden. "For example, spinning for pike is normally very good in April down south, but up north this is the peak season for ice fishing," says Anna. As a fishing tourist you should always take time to check when the fishing for just your species is best and where it's best to go.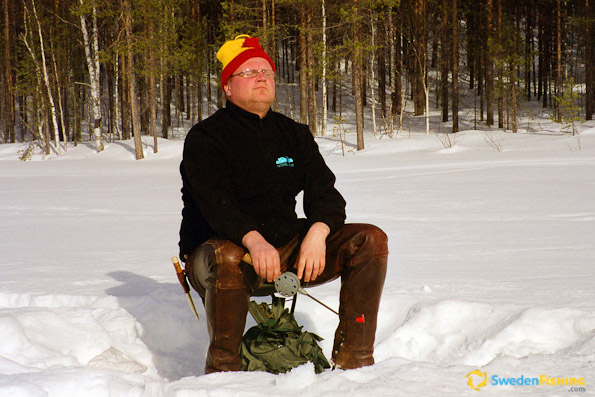 North Sweden - Vuolerim Fishing Area
Temperatures and daylight hours for some places in Sweden:
Malmö - 55°35′N 13°2′O

Average daytime temperatures

Jan

Feb

Mar

Apr

May

June

2

3

7

9

16

22

July

Aug

Sep

Oct

Nov

Dec

22

21

17

13

8

5

Hours of daylight, sunrise to sunset, mid-month

Jan

Feb

Mar

Apr

May

June

7.5 hrs

9.5 hrs

11.5 hrs

14 hrs

16 hrs

17.5 hrs

July

Aug

Sep

Oct

Nov

Dec

17 hrs

15 hrs

13 hrs

10.5 hrs

8.5 hrs

7 hrs
Stockholm - 59°19′N 18°4′O

Average daytime temperatures

Jan

Feb

Mar

Apr

May

June

-1

-1

3

9

15

21

July

Aug

Sep

Oct

Nov

Dec

22

20

15

10

5

1

Hours of daylight, sunrise to sunset, mid-month

Jan

Feb

Mar

Apr

May

June

7 hrs

9 hrs

12 hrs

14.5 hrs

17 hrs

18.5 hrs

July

Aug

Sep

Oct

Nov

Dec

18 hrs

15.5 hrs

13 hrs

10 hrs

8 hrs

6 hrs
Östersund - 63°11′N 14°40′O

Average daytime temperatures

Jan

Feb

Mar

Apr

May

June

-5

-3

0

5

12

16

July

Aug

Sep

Oct

Nov

Dec

18

17

12

6

0

-3

Hours of daylight, sunrise to sunset, mid-month

Jan

Feb

Mar

Apr

May

June

5.5 hrs

8.5 hrs

11 hrs

14 hrs

17 hrs

20 hrs

July

Aug

Sep

Oct

Nov

Dec

19 hrs

16 hrs

13 hrs

10 hrs

7 hrs

5 hrs
Kiruna - 67°51′18″N20°13′31″O

Average daytime temperatures

Jan

Feb

Mar

Apr

May

June

-10

-8

-4

1

7

14

July

Aug

Sep

Oct

Nov

Dec

17

14

8

2

-5

-8

Hours of daylight, sunrise to sunset, mid-month

Jan

Feb

Mar

Apr

May

June

3.5 hrs

7.5 hrs

11.5 hrs

15.5 hrs

20 hrs

24 hrs

July

Aug

Sep

Oct

Nov

Dec

24 hrs

18 hrs

13 hrs

9.5 hrs

5 hrs

0 hrs


Advertisement
Click on map for destinations

Search your fishing destination
Advertisement