Nature and waters in central Sweden

The central part of the country offers a steady mix of forestation and cultivation. Much of it is flatland, such as that surrounding the large lakes Vänern, Vättern and Mälaren. North of these the forests take over. Central Sweden as a whole varies greatly when it comes to nature and water, a fact that is apparent in the excellent, highly varied fishing.

In Sweden's great lakes Mälaren, Hjälmaren, Storsjön, Vättern and Vänern you can fish with sport
fishing equipment without a license.
Water characteristics
Central Sweden houses thousands of smaller forest lakes, as well as the innumerable large and small eutrophic ones on the flatland. The large alpine rivers Klarälven and Dalälven cross the region, while the Ljusnan River forms the boundary between central and northern Sweden. The Dalälven runs diagonally from the northwest towards the southeast, emptying in the Baltic about 150 km north of Stockholm. The Klarälven, on the other hand, runs mainly south, emptying in Lake Vänern, Sweden's and Europe's largest lake. From Vänern the water reaches the western seas via the Götaälv River, emptying at Göteborg. To the east and southeast of Lake Vänern you find the other great lakes, namely Vättern, Hjälmaren and Mälaren. In addition the large and small inland lakes and their connecting running waterways, there are the well-known, attractive archipelagos on the east coast with the Baltic.
Fishing
Sven tells us: "Let's start out by admitting that the fishing interest in the entire region is primarily bound to the rich distribution of high-weight pike. In the more eutrophic areas, primarily farther down the drainage basins, there's a lot of zander. The supply of carp fishes is good throughout including roach, rudd, various breams and bleak. And there's ide, asp, tench, chub and others in many waters."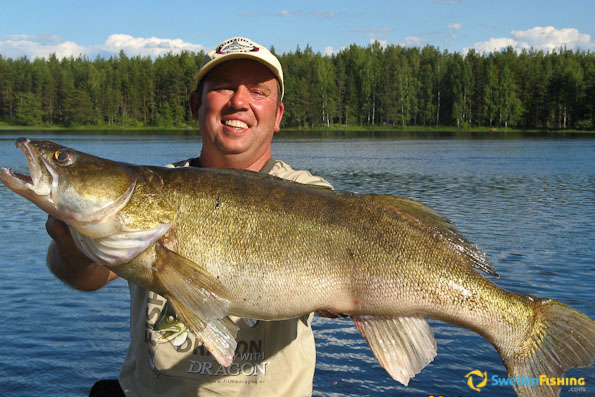 Zander joins pike and perch as a very attractive sport fish and attains impressive size in many
waters in central Sweden, like here at Hedesunda Camping, Nedre Dalälven.

In the lower reaches of the rivers and creeks emptying in the sea there is salmon and sea trout. Lake Vänern is well fished, primarily through trolling for several different groups of very large salmon and brown trout. Even Lake Vättern is home to large brown trout and great char. Grayling and non-migratory trout can be found in some waters in the northern parts of central Sweden.
"One curiosity is that you can fish even in the middle of the capital city just below the Royal Palace and the Houses of Parliament," relates Anna. "There's a short waterway there called Strömmen that empties Lake Mälaren into the inland reaches of the Baltic where there is excellent fishing for sea trout, at times even zander and perch." "In central Sweden nature changes along an east-west axis," says Sven. "And then there is Stockholm, Sweden's capital city!"
Advertisement
Stories from central Sweden

Nature and waters

The central part of the country offers a steady mix of forestation and cultivation. Much of it is…

Weather and seasons

Even during summer fishing trips the weather in central Sweden calls for an extra sweater. Evenin…

Species and fishing

Central Sweden holds no end of varied fishing settings, ranging from the east coast all the way…
Advertisement
Regional weather