Fishing for gourmets, 7 nights
Sassis Resor 7-Härad
Fishing for gourmets, 7 nights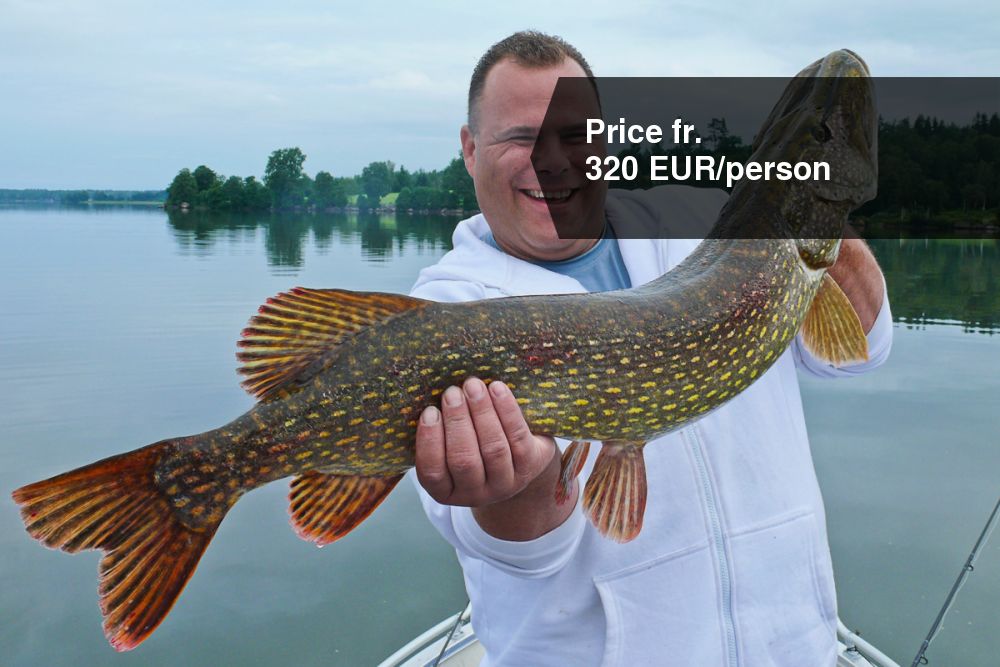 As you quietly glide across the lake, you take your pleasure angling for pike and perch. We'd almost recommend testing float tube fishing just 30 metres outside your cottage. If you wish, we will be happy to surprise you with a BBQ-dinner followed by a relaxing bath in the wood-fired hot tub to finish your evening.
Included in package
Included in package // Accommodation in a newly renovated and fully-equipped, 70 m2 cabin 30 metres from the lake, 3 Linder 440 boats with electric motor (2 batteries, charger), 6 weekly fishing licenses, fishing intro by local fishing guide on arrival. Site map of the area.
Price fr. 320 EUR/person
Supplement // Final cleaning - € 130. Bedding €25 / pers. Portable Sonar € 50/week, catering by agreement, mobile wood-fired hot tub - € 120/evening, float-tube fishing incl. float-tubes, intro, guide; half day (4h), refreshments € 80/person, full day (8h) refreshments, lunch basket - € 130/person; BBQ dinner at the lake starting at € 40/person.
Additional information
Booking: travel agent
Netherlands/Belgium - Cordes Travel
Web: Cordes Travel
Email: info@cordestravel.nl
Tel: +31 (0)493 – 310 103

Switzerland/Austria - Andino Reisen
Web: Andino Reisen
Email: info@andino.ch
Tel: +41 62 836 94 94

Poland - Eventur Fishing
Web: Eventur Fishing
Email: maciek@eventurfishing.pl
Tel: + 48 22 894 58 12/14

Other countries
Web: West Sweden Fishing
Email: turism@sjuharad.info
Tel: +46 (0)70 - 216 72 18
Contact information
Company: Sassis Resor 7-Härad
Address: Kärnåsenvägen 9
Zip/City: SE-517 96 Hultafors
Phone: +46(0)70-216 72 18
Website: www.sjuharad.info
Email: turism@sjuharad.info