Stories from south Sweden
Nature and waters

Sweden is the fifth largest country in Europe. Stretching 1 572 km (977 miles) from north to sout…

Species and fishing

With short travel distances, superb fishing waters and low population, Southern Sweden is seeming…

Weather and seasons

Since the climate in southern Sweden is much milder than most people think, the fishing season st…
Fishing in Sommenbygd
The Sommenbygd district fans out from the eastern shoreline of Lake Vättern between the town of Linköping on its northern edge and the town of Jönköping in the south, as it stretches eastwards towards the coast. This rural area, with its lakes, rivers and streams offers a variety of coarse and game fishing.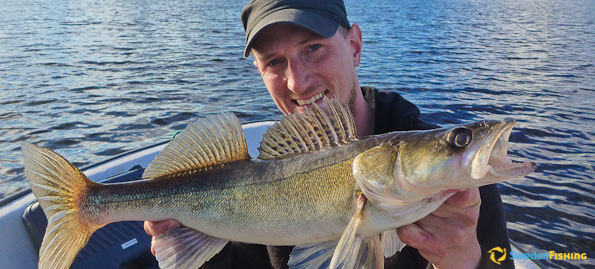 Record breakers
Sweden's 'pikeperch belt' runs through the area and the local lakes have given up some of Sweden's best pikeperch catches (source: Swedish Sports Fisherman Association). If muscly, fighting pikeperch is to your liking, some of Sweden's best lakes are here. And to top it off, in river Svartån a former Swedish record holding chub was caught. The new record holder might be waiting for you.

Coarse or game
The countryside here is mostly agricutural plains, dotted with high plateaus and, of course, the Lake Vättern coastline. In the morning you could be wrestling with a giant pikeperch at your very own lake, in the afternoon you could be fishing for chub in fast running water or trolling the coast of Lake Vättern for salmon. The fish you can catch here include; pike, pikeperch, perch, chub, trench, bream, rainbow trout, salmon and salmon trout.

Accommodation
You can get a quality hotel stay just feet from a lake, or go self-catering in a cottage or cabin with lakeside views.
Find your favorite fishing destination in the map below. In our area we have several tourism companies that serve visiting anglers. Please see the map below to find your favorite fishing destination and detailed information about each place.
If you want more information about general tourism in the area, please visit www.sommenbygd.se