Stories from north Sweden
Nature and waters

Northern Sweden is an enormous land area with uncounted lakes, rivers and jokks, Sami for creek,...

Weather and seasons

Northern Sweden and what in common parlance is called Lapland is an immense area embracing a thir…

Species and fishing

For anyone seeking silence and immense spaces, the alpine world of northern Sweden is a fulfilme…
Fishing in Northern Lapland
In Europe, fishing doesn't get any wilder or more exotic than in northern Lapland at Sweden's most northerly tip. This is the Arctic Circle, after all. The natural wild setting is a vista of vast arctic tundra plains, high rocky plateaus and innumerable lakes, rivers, rapids and streams teeming with wild fish. If there is a fishing destination to write home about this, this is it. In the land of the Northern Lights and Midnight Sun the best fishing season is between May and September. In the summer months you can fish 24/7 for salmon, trout, char, grayling, pike, whitefish and burbot. The fishing on offer is tremendous; there is fly-fishing for salmon, mountain fishing and lakes with predatory pike hidden by deep dark forests.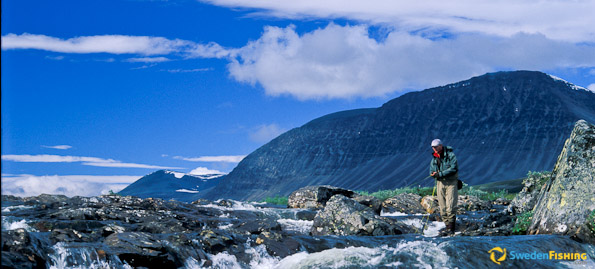 Northern Lapland even has own its own archipelago on the eastern seaboard in the Gulf of Bothnia. To round up? The fishing is off-the-scale. The wilderness setting is incomparable in Europe. And you will have stories to tell about your trip here that will last a lifetime. It's that good. Accommodation: Packages on offer from local fishing tourism companies include accommodation, fishing guide, logistics and transport.
In our area we have several tourism companies that serve visiting anglers. Please see the map below for detailed information about each place.