ABOUT US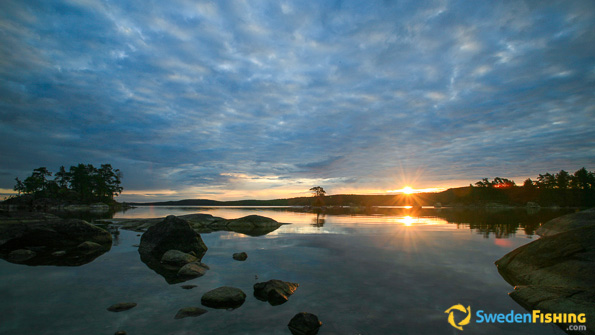 Our location on Torpö Island in the middle of Lake Sommen is a base camp for fishing adventures in the coves and open expanses of this lovely lake. In its way Lake Sommen nature is unique – its clear water has a ten-metre Secchi depth together with the many islands provide a long remembered experience. There is fish, of course, and elk (moose), berries, mushrooms and everything else that is part of Sweden's lovely nature.
Languages
At Torpöns Färjeläge we speak Swedish, English and German.
Season
You can hire our cosy cabins on Torpö Island from April 15 to October 31. Fishing is at its best in the spring and autumn and as luck will have it you'll have the lake pretty much to yourself just then. Our restaurant is open from May 1 to September 19.
Other activities
Take a steamship tour with the S/S Boxholm II, climb the altitude track and play boules at our facility. Visit Astrid Lindgren's World. There are many food producers and craftsmen in our vicinity and Naturum Sommen is right next-door.
Additional information
As we care for Lake Sommen, its denizens and the coming generations of anglers, we only use Aspen akrylate petrol in our outboard engines.
FISHING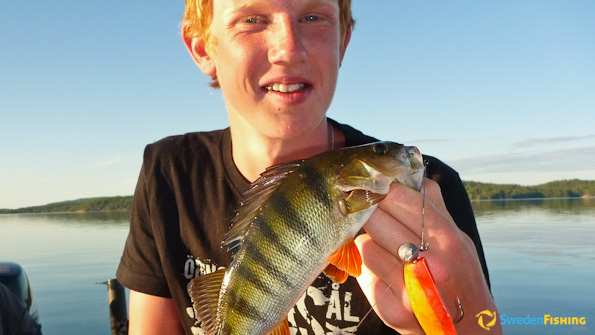 In lake Sommen we primarily target pikeperch, pike, perch and char. The record fish are as follows: Pike - 118 cm - 2008-08-14. (10.45kg). Perch 49 cm – 2011 (registered max), 45,5 cm – 2007, 43,5 – 2003 (registered max). Pikeperch 8,0 kg – 2010. Char 84 cm – 2009 (registered max).
Service
Linder 440 fishing, 15 hp 4-stroke, steering pulpit; Linder 400, 4 hp, 2-stroke; Askeladden 3,5 m with oars. Echo sounding unit for hire. Boat trailer, canoes and kayaks for hire. We can also provide a detailed chart and needed fishing license. Restaurant, ice cream shop and altitude track.
Fishing equipment
The lake is perfect for spin fishing pike in spring and autumn. Summertime trolling is more effective. Don't miss a chance to jig fish any time for the abundant large perch. Lilac jigs are a sure card and don't fail to try vertical jigging. Pikeperch fishing owns a large potential and you will certainly catch your fill if you try it. Especially large, the Sommen char draws many Swedish anglers.
Fishing regulations
There are well-developed angling regulations for Lake Sommen available either from our office or the lake's own website. C&R is recommended and encouraged by us at Torpöns Färjeläge.
ACCOMMODATION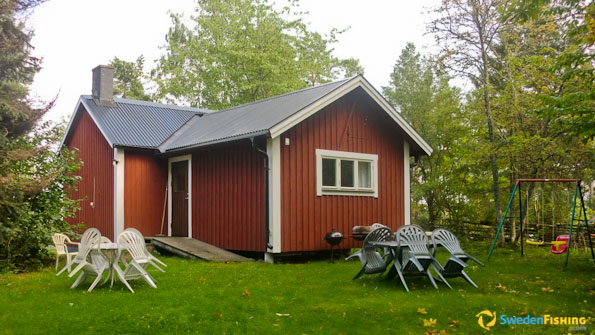 Cabins 1 and 2 are on the actual campsite close to the service house and some 50 m from the shoreline. They each have four beds (convertible and bunked); kitchenette with cold running water, simple equipment and coffee brewer; electric heat and lighting.
A modern hygiene building with WC, shower, full kitchen and laundry is 50 m away.
Cabin 3 is located by the restaurant and harbour. The cabin is 40 m2 with a kitchenette and four beds (2 beds and a bunked). The main room has two convertibles sleeping four, kitchenette with the same equipment as cabins 1&2, its own WC/shower and garden with grill – perfect after a day of solid fishing on the lake. There is a beach and playground less than 200 m away. We recommend this cabin to visiting anglers. Remember, you are never far from the water anywhere on Torpö Island and you can dock your own boat at our pier any time.
FIND US
Location & transfer
Torpöns Färjeläge is located on Torpö Island in the middle of Lake Sommen. It takes 30 minutes from Tranås by car. Skavsta Airport
(Stockholm) is 2 hrs away by car. Coming from the north on E4, take the Mjölby exit; from the south, take the Gränna exit – both about an hour by car. Lake Sommen lies halfway between Jönköping and Linköping.
GPS (WGS 84)
Lat: 58.02635, Long: 15.08867
Booking: travel agent

Contact information
Company: Torpöns Färjeläge
Address: Färjeläget
Zip/City: SE-573 94 Tranås
Phone: +46(0)140-420 41
Website: www.torponsfarjelage.se
Email: peter@torponsfarjelage.se