ABOUT US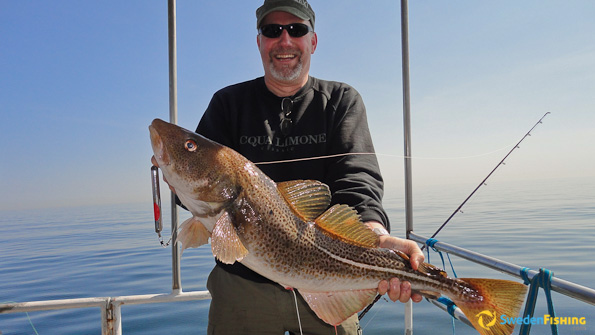 Fishing South of Sweden (SOS) offers deep sea fishing on the Baltic for beginners and pros. Our specialty is cod fishing on wrecks and stone ridges – exactly what is so appreciated now. The M/S Baltic Explorer skipper knows where to find wrecks. In the spring we fish for sea trout and garfish running our all-round boat along the coast.
Languages
At Fishing SOS we speak Swedish and English.
Season
We fish all year round if it is open water. Cod – year-round. Sea run trout – spring/summer. Salmon - spring/summer. Garfish - spring. Herring - spring/summer/autumn. Turbot – spring/autumn.
Other activities
Swimming and family trips. Beautiful sundown trips with champagne on the sun deck while enjoying the historic silhouette of Wallander's hometown. Tour to Kåseberg – see the legendary Ales Stenar ship setting and visit an eel smoking facility.
Diving tours.
Additional information
We arrange diving tours through the unique Baltic ship cemetery with more than 200 shipwrecks from two world wars. Contact: www.pdyk.se.
FISHING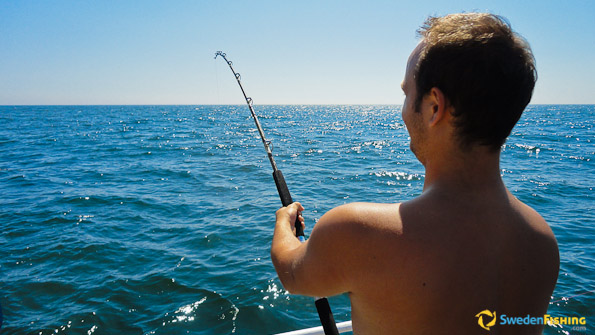 Cod – 32.4 kg. Sea trout - 12 kg. Turbot – 4.7 kg.
Service
A reliable 20-ton steel boat with space for as many as 12 guests. The large main cabin is perfect for rest, warmth and cosy breaks. This well-equipped charter boat also has a kitchen and WC/shower, plus a roofed afterdeck and a sun deck. The boat is also fitted with all imaginable technical equipment such as echo sounding and side scan sonar.
Fishing equipment
A substantial ocean rod with 200-300 g pilks. Jigg fishing with 150-gramme jigs. Equipment can be borrowed for shorter tours and rented on board the charter boat. As we move past the boat wrecks, we use our technical equipment and experience for the best fishing result.
Fishing regulations
Salmon - 60 cm; prohibited 15 Sept - 31 Dec. Sea run trout - 50 cm; prohibited 15 Sept - 31 Dec. Cod - 38 cm. Flounder - 23cm. Plaice - 25cm.
Brill - 30 cm. Turbot - 30 cm; prohibited 1 June – 31 July.
ACCOMMODATION
For charters Fishing SOS can offer lodgings on board for 4-6 persons, including all possible comfort such as kitchen, WC/shower, two separate cabins plus a large main saloon.
On land we co-operate with the following:
Skivarps Gästgiveri Inn – If what you want is a luxury hotel in the Hilton class, Skivarps is not for you. This is a 300-year old building without a single right angle and no room like the other. But it offers quiet, charm, history and a special personality. Contact: www.skivarp.com
Ystads Saltsjöbad – Ystad is located on Skåne Province's loveliest coast near Österlen and the hotel has graced its shoreline for 110 years. Add a spa and a conference facility and we can offer our guests more than they expect. Contact: www.ysb.se
Casa Walett – "Opens space for people to be in and to develop. Preferably simultaneously. The house is the body and its contents, the soul." Contact: www.walett.se
FIND US
Location & transfer
We are located in the town of Ystad on the south coast of Sweden, Kurt Wallander's picturesque hometown, offers daily ferry connections to both Poland and Bornholm. 25 min. east of Malmö Airport. 40 min. east of Trelleborg ferry terminal (DE). 55 min. east of Copenhagen International Airport.
GPS (WGS 84)
Lat: 55.42635, Long: 13.81759
Booking: travel agent

Contact information
Company: Fishing SOS
Address: Båtmansgatan
Zip/City: SE-271 3 YSTAD
Phone: + 46(0)707-90 89 07
Website: www.fishingsos.com
Email: fishingsos@pdyk.se