Salmon Fishing Package, 5 nights
Jockfall - Anglers' Paradise
Salmon Fishing Package, 5 nights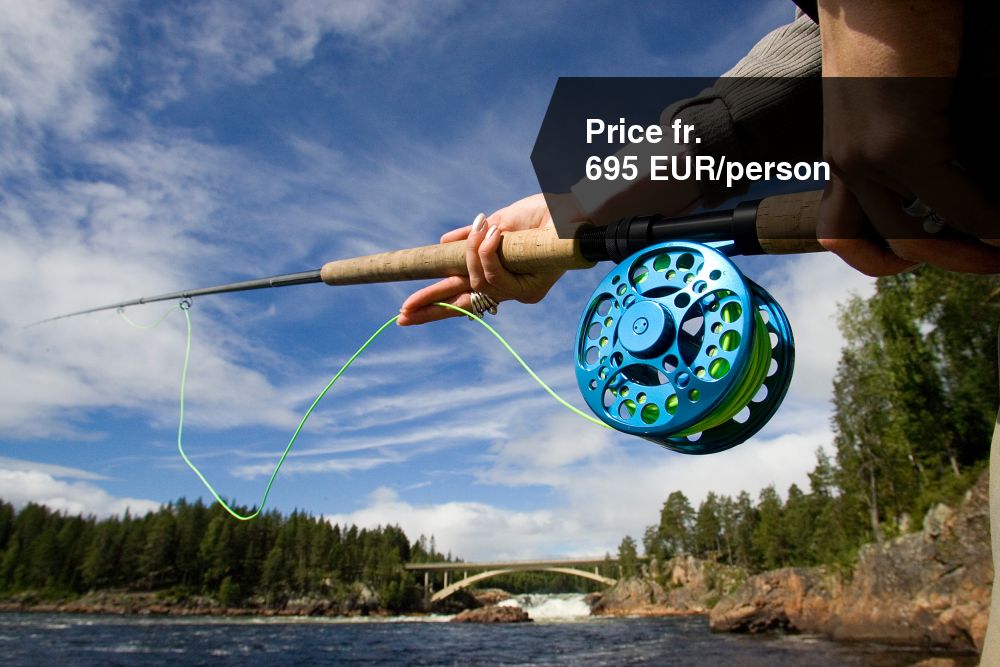 River Kalixälven is called "salmon fishermans paradise" and our camp is located by the waterfall Jockfall with 9 meter vertical drop. We offer you a great opportunity to catch the big salmon here, be sure! Guests stay in four-bed cabins, with access to sauna, shower, restaurant and tackleshop. In this package you get the chance to try different rivers and fishing spot during Your stay over 5 nights and 4 days of fishing. Our guides will take good care of you and put you on the best spots the area can offer.
Included in package
Included in package // Accommodation in shared 4-bed wilderness cabin, 5 nights. All meals. Shared fishing guide 3 days, 1 day fishing on your own. Fishing permit 4 days. Sauna. (Package price calculated on 4 persons)
Price fr. 695 EUR/person
Supplements // Extra days of fishing, accomodation and guide. Transfer from/to airport on arrival/departure. Rental fishing equipment.
Additional information
PROGRAM
Dag 1: Du hämtas på flygplatsen i Luleå för transport till Jockfall. Inkvartering i stugorna. Du bekantar dig med omgivningen och under middagen berättar vi om laxfisket vid Jockfall och den intilliggande Ängesån. Vi berättar hur laxtrappan fungerar och allt du behöver veta inför vistelsen hos oss.
Dag 2: Dagen startar med fiske i området närmast fallet, ca 100 m från stugan. Området nedanför fallet består av två större pooler. Där stannar laxarna till för att samla krafter för vidare färd upp i älvsystemet. Lunchen äter vi ute vid Kalixälvens strand. Fisket fortsätter resten av dagen och er guide visar de bästa ståndplatserna. Efter dagens fiske badar ni bastu och intar en god middag i anläggningens restaurang.
Dag 3: I dag går färden till Ängesån kallad "flugfiskarens älv". Guiden tar dig med till de för dagen bästa laxpoolerna i denna vackra älv. Vi intar både lunch och middag ute vid älven och åter¬vänder till Jockfall framåt småtimmarna.
Dag 4: I dag provar vi på trollingfiske vid Ansvar, 5 km nedanför Jockfall. Vi fiskar från båt mellan forsarna på de lugna selområdena. För den som vill fiska från land är området mycket lämpligt för både spinn- och flugfiske. Här kan man även tampas med feta harrar eller öring. Lunchen intar vi i ett vindskydd med tillhörande eldplats medan vi njuter av den vackra naturen. Middag i anläggningens restaurang.
Dag 5: Egen fisketur i området. Du avgör själv var du vill fiska. Lunch och middag i restaurangen eller medtagen matsäck.
Dag 6: Frukost och därefter transfer till flygplatsen. Vi hoppas att du under den gångna veckan har berikats på minnen och blivit biten av Kalixälvens blanka laxar och storslagna natur.
Booking: travel agent
Contact information
Company: Jockfall - Anglers' Paradise
Address: Tjärgränd
Zip/City: SE-956 92 Överkalix
Phone: +46(0)926-600 33, +46(0)926-610 12
Website: www.jockfall.com
Email: info@jockfall.com