Fly fishing course, 4 nights
Jockfall - Anglers' Paradise
Fly fishing course, 4 nights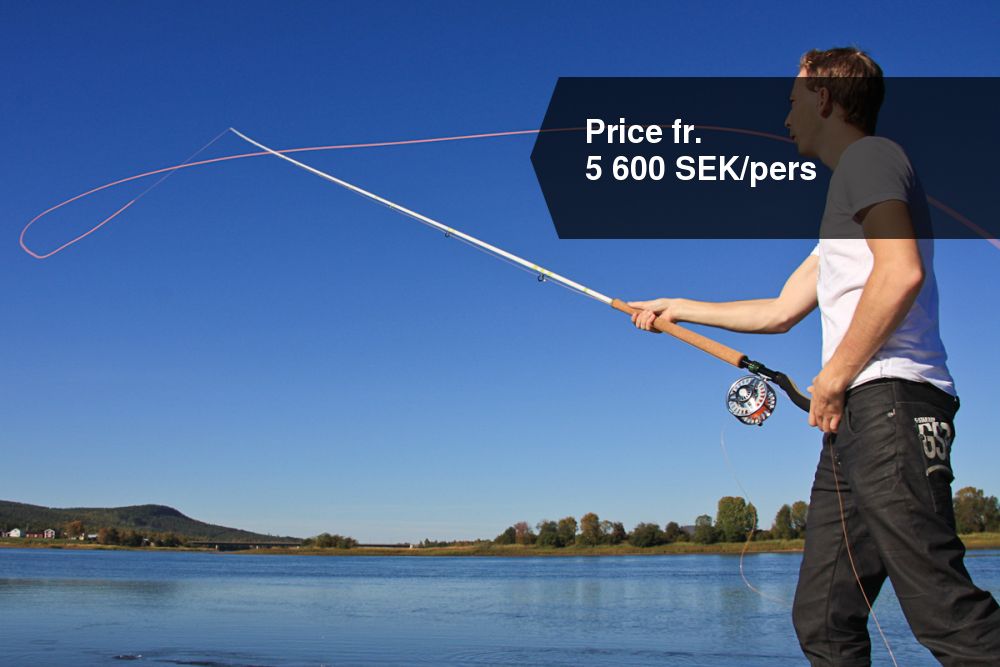 Three-day fly-fishing course in one of Sweden's safest salmon rivers. During the day you will learn the basics of fly-fishing using both on-hand and two-hand rods. Ronny Landin will be your instructor for the course, who in spite of his tender age is an experienced fly-fisherman and instructor.
Included in package
Included in package // Three-day fishing licence. Four nights sharing a 4-bed wilderness cabin. All meals. You will learn: • Basic casting techniques using one- or two-handed rods. • Underhand's casting / modern Spey-casting. • Reading the water to see where the fish are. • The art of catching and handling fishes with a flyrod.
Price fr. 5 600 SEK/pers
Supplements // Adding your own fishing days: Cabin at 700 SEK/night. Fishing licence at 100 SEK/day.
We will try out two-handed fishing wading from the shore. During these days there will be time as well for practical fishing with such help as you wish. Ronny will be available throughout the course. Midnight sun and bright nights add an extra dimension to the fishing. The fishing course is in Jockfall, but we will also fish at Ansvar downstream.
Additional information
Booking: travel agent
Contact information
Company: Jockfall - Anglers' Paradise
Address: Tjärgränd
Zip/City: SE-956 92 Överkalix
Phone: +46(0)926-600 33, +46(0)926-610 12
Website: www.jockfall.com
Email: info@jockfall.com